Get Speaking Task Sheets
Self-study Speaking Practice with Get Speaking
Ready-to-go speaking exercises for English exam presentations and discussions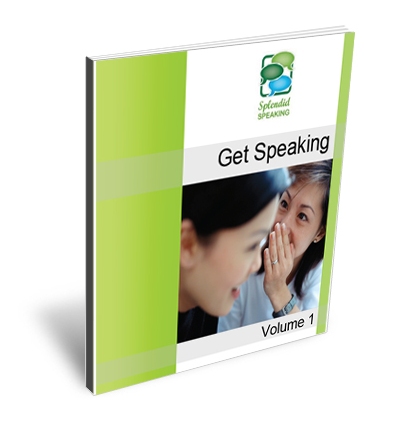 Are you preparing for an English Speaking exam? Are you looking for new topics to speak about, vocabulary for each topic AND strategies to help you perform at your best?
We all know that the best way to prepare for an English Speaking exam is to practise as often as possible … 'practice makes perfect' is particularly true for students in this situation!
The question is where do you find suitable practice materials?
It's important that you're familiar with the kind of short presentations (long turns) and discussion topics that often appear in English Speaking exams, but these can be hard to come by. And what about the key vocabulary to support these topics and the Speaking skills you'll need to focus on?
We realise how difficult it can be to find materials like this which is why we've developed our hugely popular 'Get Speaking' Task Sheets.
>> This is what you will find in Get Speaking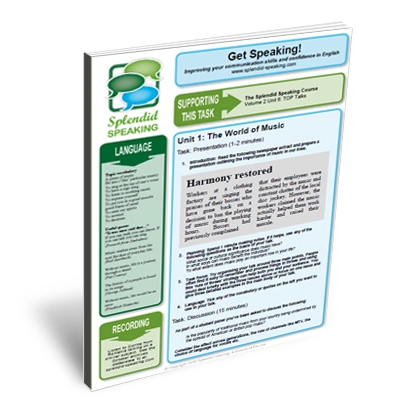 "I'm a teacher and recommend Splendid Speaking to my CAE, CPE and business students. The worksheets provide excellent vocabulary they can use immediately. Thanks!"
R.P. International House, Spain
"Very useful tasks, complete with appropriate vocabulary!"
Tuula Jantunen, Finland
"It is useful for class activities- it fits our curriculum."
M.D. Bucharest, Romania
What is Get Speaking?
Would you like to have access to interesting Speaking topics? Would you like to learn highly-practical methods to help you develop your English speaking skills, whether for English Speaking exams, work or university? Do you want to have access to useful topic vocabulary to use in your presentations and discussions?
And would you like to have all this delivered in one simple, easy-to-print page, ready to go?
If so, that's why we've put together these 2 Volumes of Get Speaking Task Sheets for you to help you with your Speaking practice.
Who are the Task Sheets for?
The Get Speaking Task Sheets are ideal if you are working towards upper-intermediate to advanced English Speaking exams or simply aiming to improve your presentation and discussion skills. If you're working independently using Instant Messaging or tools like Skype for speaking practice or simply meeting up with friends face-to-face, Get Speaking will be invaluable. You'll benefit from the structure and tips the Task Sheets offer as well as the topic vocabulary supporting each task.
What's in each Task Sheet?
Here's what each Task Sheet contains.

Two speaking tasks: Each Task Sheet contains 2 tasks: a featured activity and a secondary task. Tasks covered include presentations and discussions or role plays.
Task focus: The featured task comes with a task focus, offering you a memorable and practical way of delivering the task professionally.

Topic vocabulary: Each Task Sheet comes with a list of topic vocabulary you can use in your presentation or discussion.
Sample recording: Each Task Sheet comes with a link to one of our free Splendid Speaking recordings offering you the chance to hear a student carrying out a similar task.
Can't I just download any of them for free?
We do publish example Get Speaking Task Sheets for free download. However, if you prefer to have access to ALL task sheets IMMEDIATELY you can now do so.
How much does Get Speaking cost?
Volumes 1 and 2 (Task Sheets 1-26) for just £20.00.
I hope you continue to find Splendid Speaking useful for your English studies. Please get in touch if you have any questions about Get Speaking or Splendid Speaking generally.
Best wishes!

Flo-Joe, 35 St Paul's Square, Birmingham, West Midlands B3 1QX, UNITED KINGDOM
Tel: +44 121 624 3501
Fax: +44 121 624 3501
Email: info (at) splendid-speaking.com