The Splendid Speaking Course
an easier and more effective way to improve
your speaking skills and confidence in English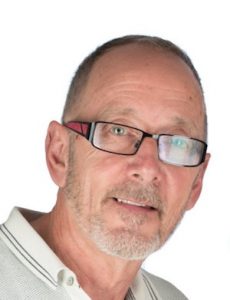 Hi!

It's true … there are skills, techniques and spoken language you can learn and practise that really WILL help you face English speaking tasks with increased confidence. Don't just take my word for it …
"When the exam came, I was perfectly calm and self-assured, … the hands-on training had taught me practically the right strategy, which I applied – making my speaking paper a great success… If it were not for your help, it would have been at least one grade lower."
Andrzej P., English Language student, Poland
SPECIAL OFFER!




Purchase 6 months subscription (£37) …


get 6 months FREE (1 year in total)
Normal cost 12 months =£49 (save £12)


Offer Closing Date: January 31st 2022
How can Splendid Speaking help me?
Let's be honest – speaking English in high-profile situations can be challenging when it's your second language. The impression that we make on other people often comes down to:
a) how we present ourselves and make conversation, especially during introductions – and
b) the impact we make when we have to speak at length, either in a formal presentation or an 'off the cuff' talk.
And that's precisely why we developed this course and based it around the strategies adopted by successful communicators.
What is the Splendid Speaking Course?
Splendid Speaking is an online self-study English speaking course to teach advanced learners of English top-level speaking skills and communication strategies. It comes in two volumes ('Introductions and Small Talk' and 'Powerful Presentations') and covers 12 key strategies for communicating effectively, as well as a range of useful vocabulary and language topics.
How does it work?
First, there's nothing to download or install. Splendid Speaking is an online course so all you need is a web browser and an internet connection. You sign-up for a username and password account and then you can log in from any computer – at work, at home, in your local library or internet cafe. When you have half an hour to spare in your busy day you could be working through a speaking strategy or brushing up on your vocabulary!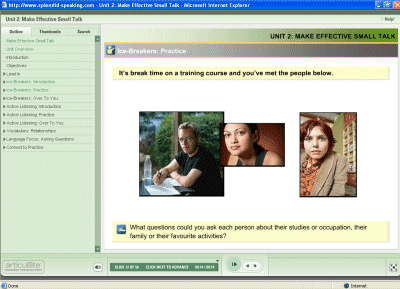 Splendid Speaking is perfect for…
People who need to speak English at work.
University and college students studying in an English-speaking environment
Advanced learners of English who have a good grasp of grammar but who lack confidence in speaking in real-life situations.
Candidates for any advanced English language exam with a Speaking component.
What does my subscription include?
Download the complete syllabus (PDF file). Right-click (Windows) or hold down the mouse button (Mac OS) and then choose Save Target As from the pop-up menu. Click here for the complete syllabus.
Volume 1: Introductions and Small Talk
In this volume you'll learn how to:
Make an impact with a 15-second introduction (Unit 1) – a useful skill in a job interview or networking situations.
Make small talk using the S.O.F.A. strategy (Unit 2)- a surefire way to make social situations much easier.
Listen effectively and show interest in what others have to say (Unit 2), so you can build an immediate rapport with other people.
Relate a S.T.A.R. story (Unit 3) that illustrates a personal achievement – ideal in an interview for a job or training course.
Plus 2 other key speaking strategies on body language and giving examples.
Volume 2: Powerful Presentations
In this volume you'll learn how to:
Captivate your audience by choosing one of five memorable ways to start a presentation, and then signpost it clearly so your audience don't get lost (Unit 4).
Introduce photographs and information graphics (graphs, charts, tables, etc) to illustrate your talk (Unit 5).
Avoid worrying when you're asked to "say a few words". You'll soon be giving a T.O.P. spontaneous talk, and using pauses for effect (Unit 6).
In addition to these 12 key strategies you can test yourself with our interactive quizzes on useful collocational phrases to do with work, business, education and relationships, for example.
And that's not all…
In addition to these 12 key strategies you can test your knowledge of useful topical collocational phrases, question formation and the particular features of spoken English such as the use of 'heads and tails' and 'vague' language.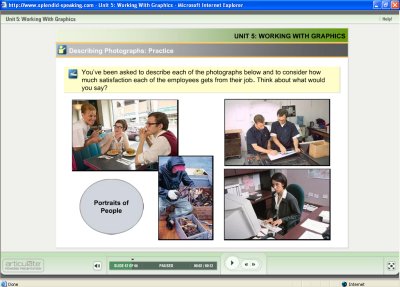 Live Teacher Support
To help you stay on track with your studies we invite course members to join us and other students on one of our live monthly 'ask the tutor' tutorials. (Times are advertised on the course homepage.) We will focus on the key Speaking skills covered in Splendid Speaking and try to answer any questions you may have. And if you can't attend a session, email us your question and we'll try to help.
Special Offer
Purchase a subscription to 'The Splendid Speaking Course'
and get a FREE subscription to 'Splendid Expressions',
our three-stage approach to learning HUNDREDS of English expressions.
Are there an special technical requirements?
No! There's audio throughout the course so you'll need a reasonably good Internet connection and the content is developed using Flash and you'll need Flash Player 7 or later (most people have this).
Listen to What Other People have had to
Say About Splendid Speaking
" [Splendid Speaking has been]…very important for me in order to organize the mental process in the acquisition of a new language. (My native tongue is Spanish.) It's a friendly learning environment, which is very important. Thank you!"
Teodoro E.Y., English Language student, Chile
"The Splendid Speaking strategies are a remarkable opportunity to get more fluent and confident in English. Thanks to Pete and Fiona for creating so splendid way of learning Speaking skills."
Daniela do V., English Language student, Brazil
"I really believe that a good speaker is made and not born, so the tips Splendid Speaking provides are really helpful. Using the 'Spontaneous Talks' techniques it provides really helped me to achieve more fluent communication of the message."
Corina B., English Language student, Romania
"Splendid Speaking is giving me the tools and the confidence to improve my speaking skills, providing explanations and tips on the best approaches to answering a question."
Solange, English language student, Brazil
"What to say more than: absolutely helpful!…Excellent preparation for the speaking part of an exam."
Vucosava N., English Language student, Portugal
SPECIAL OFFER!




Purchase 6 months subscription (£37) …


get 6 months FREE (1 year in total)
Normal cost 12 months =£49 (save £12)


Offer Closing Date:
January 31st 2022