Introduction
In this lesson you will prepare for a CPE Part 3 long turn by
reading about the pros and cons of social media
identifying key vocabulary
practising word stress
looking at effective ways of starting a long turn
trying a CPE Speaking Part 3 long turn
CPE Part 3 Task
You are going to prepare to answer the following Part 3 task
What effect has the emergence of social media meant for the individual and society?
• relationships
• skills
• mental health
Reading
Click the links below and read the two articles about 'social media'. These articles are on another website. Don't forget to come back to complete the lesson!
NB: Please let me know if these links no longer work and I will update the exercise.
Vocabulary
The following words all appeared in the two articles above, but in set expressions, not individual words. How many set expressions can you identify?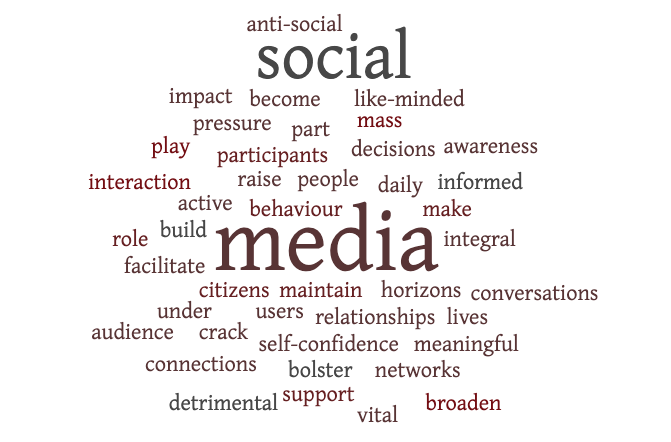 Here are the set expressions and collocations. Are there any you don't understand? If so, read the article concerned again and try to work out the meaning.
Article 1
maintain social connections and support networks
bolster self-confidence
become an integral part of our daily lives
play a vital role in
social participants
active citizens
make informed decisions
broaden users' horizons
Article 2
raise awareness of
a mass audience
crack under pressure
facilitate conversations
like-minded people
social interaction
anti-social behaviour
have a detrimental impact on
newfound sense of independence
build meaningful relationships
Pronunciation
Listen to me pronouncing each of the expressions above. I will say each expression twice and then leave a pause for you to repeat each one after me. You should focus on word stress.
For example: BOlster self-CONfidence
Speaking Strategy
There are a number of ways of starting a long turn like this. One idea is to highlight the significance of the subject in contemporary society. For example
Hardly a day goes by without news of how social media poses dangers for young people, so this question is clearly of importance. For my own view …
This is a very relevant question. Social media plays a huge role in the lives of most people these days, particularly in terms of the points listed below. Let me start by looking at relationships …
Think about how you might start your long turn before continuing. Here's the question again:
What effect has the emergence of social media meant for the individual and society?
relationships
skills
mental health
Speaking Practice Test
Now try this CPE Speaking Part 3 task. Try using some of the expressions we have looked at above along with an opening statement that expresses the contemporary relevance of the subject .
Choose what you want to do
simply record yourself and play the recording back to see how well you did.
record yourself and email me the recording. I'm afraid I can't give everyone individual feedback but I may feature your recording on the website with my comments. You'll be invited to email the recording when you've finished.
Tip! For the best quality recording try to do this somewhere quiet and with an external microphone. Remember, your talk should be no longer than 2 minutes.